The 2021 Subaru Love Promise Customer and Community Commitment Award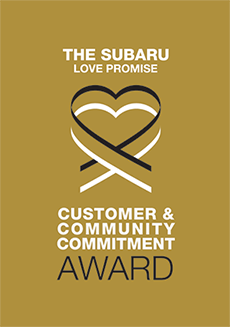 We've been nationally recognized for our dedication to our customers, our community, and the Subaru Love Promise.
We're honored to receive the 2021 Subaru Love Promise Customer and Community Commitment Award. This award nationally recognizes elite Subaru retailers who provide an exceptional customer experience at every interaction with Subaru. These retailers have also demonstrated an outstanding commitment to supporting passions and causes in their local communities in important areas such as the environment, community, health, education, and pets.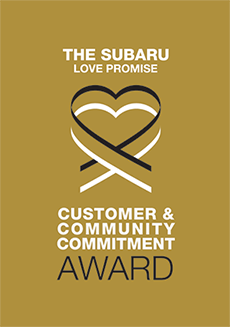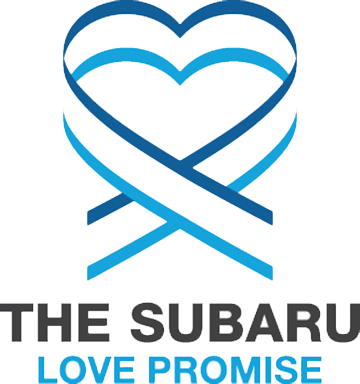 What is the Subaru Love Promise?
Subaru and our retailers believe in making the world a better place and the Subaru Love Promise is our vision of respecting all people. This is our commitment to show love and respect to our customers and to work to make a positive impact in the world.
How is Gateway Subaru dedicated locally to the Love Promise?
Our Love Promise is our promise of dedication, not just to our customers but also to our community. We work hand in hand with various local charities and non-profits. We're grateful for the opportunity, not only to be a part of our community, but to serve it as well because this is what Love means to us.
Humane Society of Wicomico County
Parkside High School CTE Center, Wicomico High School AP Science
Village of Hope, Maryland Food Bank, Toys for Tots
Love Promise Stories from Gateway Subaru
Subaru and Gateway Subaru believe in making a positive impact on the communities in which we live and work. We uphold that belief through our Love Promise Community Commitment. Every month, we select inspiring stories from customers and partners from around our area who strive to support our collective commitment and feature them here
Keller's Story - Maren B
We are exceptionally fortunate and grateful to have the amazing family of employees at Gateway Subaru as loyal and generous supporters of the Cystic Fibrosis Foundation for many years. From the beginning of our partnership, they took the time to allow us to educate them on the importance of their support with regard to advancing research and patient care, the careful manner in which we would steward their dollars, and introduced them to members of our community who could share firsthand how their unwavering support has impacted and changed their lives, and that of those who love and care for them. We are on the cusp of a new era in cystic fibrosis. In just the last year, the FDA approved Trikafta, a drug that treats people with CF ages 6 and older who have at least one copy of the most common CF mutation. More than 90% of people with CF now have access to a highly effective therapy for the underlying cause of their disease. The CF Foundation also launched its Path to a Cure research agenda with $500 million in order to accelerate the pace of progress in drug discovery and development, and ultimately a cure for all people with CF. These types of bold visions and breakthroughs could not be possible without the loyal and generous support of partners like Gateway Subaru. This Subaru Share the Love campaign was not their first partnership with our organization. They have demonstrated leadership in our community, and involved their vendors, employees and customers in taking their lead and getting involved. As in several events throughout the years. As soon as the campaign kicked off, they invited a CF ambassador to their dealership. Jenna and Corey Hoch, and their son, Keller, a feisty 8 year old CF young man, visited during one of their sales meetings. Keller and his family are outspoken advocates of the Cystic Fibrosis Foundation, and shared their story, challenges, both health and otherwise, and successes. They recounted the number of therapies Keller goes through in a 24 hour period when he is well to maintain his status quo, and all of the events they plan throughout the course of the year to raise money and awareness for the CF Foundation. Through corporate partners and advocates like Gateway Subaru, Keller continues to thrive and share his story. The sales team had a deeper understanding of CF, and how that impacts a family in their community. They were able to take that knowledge when speaking to customers about the dealership's selection of the Cystic Fibrosis Foundation as their hometown charity. Gateway Subaru invited the local CF community to set up a table on Saturdays during the campaign, and put up feather banners with ambassador photos, share information about the disease, the Foundation, and take away materials to continue the awareness. They engaged with customers, and were further able to tell their story and share the advances, as well as the need for further research. The success of this campaign is in every way related to the commitment of Gateway Subaru to the community it serves. They are true partners in many causes, but we are most grateful to their commitment to the Cystic Fibrosis Foundation for the years that have seen so much progress. Their continued resolve and dedication to our shared mission of leaving no stone unturned, helping us to raise the necessary dollars to fund the science that we believe holds real promise to address every CF mutation. Together, we will work to ensure that all people with CF can live full and healthy lives and have hope for the future. We are stronger together! #UntilItsDone
---
Howards Story - Sandy S
The day sweet Howard the hound dog arrived at our shelter we immediately noticed a limp in his gait. The people surrendering him acted like they didn't know anything about it. Howard was a very sweet and easy going guy at the shelter but his potential health issue made him less desirable to potential adopters. After consultation with an Orthopedic Surgeon it was determined that Howard would need an expensive surgery to repair his torn ACL. We didn't think twice about providing Howard with the medical attention he needed but it would be a financial hardship for our shelter as we have been struggling this year due to the cancellation of most of our fundraising events. Fortunately, Howard quickly met his forever home with a woman who wanted to help him in any way possible. She took Howard home and fell in love with him. Howard was able to recuperate from his surgery in the peace and quiet of his new home instead of in the shelter. Financial support from Subaru impacted not only Howard's life but the lives of animals to come as we always make room for the next dog or cat who needs help.
---
Continuity of Excellence is Rare - Debra D
I find myself in the most enviable position of writing to you again to extol the virtues of the Gateway Subaru dealership in Delmar, MD and the wonderful people in their employ. We just picked up our 2020 Outback and once again are thrilled. I wrote to you in April of last year after we purchased our 2019 Crosstrek to tell you of the wonderful experience we had at that time and once again I write for the same reason, with one important difference. There has been a change to management to Don Scullen. Excellence is difficult enough to maintain when the variables remain the same, however when you have a major change in management and still have the same outstanding result to customers, you have something that is very special. Continuity of excellence is rare, however, Gateway has just that and more. We had the pleasure of again working with Don who sold us the Crosstrek last year, before he was named Sales Manager. He explained he had received a promotion (a well-deserved choice, in my opinion) and Barb Sieger would be working with us upon pick up. As always, Don was just a delight to work with - kind, caring and professional. We traded in our 2017 Outback and received a very fair trade in value for it and the process was simple and stress free. In advance of our pick up, Barb Sieger contacted us to introduce herself and ask if we had any questions. The paperwork was all previously submitted to Gateway and taken care of prior to our arrival. We met with Barb, who not only reviewed the important features with us, but also paperclipped them for us - just another Gateway touch we have become accustomed to and one that sets Gateway apart. All that was left was to meet with Zach Nagler to review our chosen warranty before actively reviewing the features of the car with Barb. We had previously worked with Zack on the Crosstrek purchase and he did the same great job of reviewing our warranty options, including explaining what it did not cover. We already knew the limitations, since we have the identical coverage on the Crosstrek. However, I find it an impressive distinction, particularly for first-time buyers, to avoid confusion and offer full transparency. There was no pressure to purchase anything we were not interested in and he then completed the paperwork for the sale. We returned to Barb and went off to "school in the car," as my husband put it. Every feature was thoroughly explained and she even went the extra mile, using her phone to explain a feature, when my husband's phone did not work. She suggested the problem was with his settings - which it was. There is little more anyone could ask. In closing, I believe for Gateway to remain extraordinary in every way, since we first stepped into the door in 2014 is truly a credit to the employees of the dealership. It is equally important to meet hat you know that as a customer, I am so appreciative of their efforts to keep it that way. Gateway Subaru has become like family to us, and before leaving we hugged Don and Barb. How many people can say that? Probably a lot - provided they are Gateway Subaru customers.
---
Gateway Subaru - The Gold Standard for Experience - Molly M
I recently phoned Wendy Schiavone to advise her of our desire to purchase a new vehicle and, if possible, to arrange for an appointment to have the airbag recall for the 2014 Outback taken care of at the same time. We live 50 miles away from the dealership, so we were hoping to kill 2 birds with one stone. She instantly assured me that it was not a problem, transferred me to the service department and told them to transfer my call back to her, once I had scheduled a convenient date and time for the service. She gave me the name of the salesman, Don Scullen, and we made the appointment for 10 o'clock on April 2nd. This was accomplished seamlessly, with literally no effort on my part, all thanks to Wendy. We dropped our car off to the service department for the airbag and an oil change and went to meet with Don. The instant we said hello, we were very comfortable with him. He was not at all pushy, just very knowledgeable about each car and their particular pros and cons, as they applied to our situation. Our dilemma, more specifically my dilemma, was that no matter which car we chose, it was going to be shorter in length than our current Legacy and I worried about the Crosstrex being almost 11 inches shorter. The Forester albeit closer in length to my Legacy, was closer in mass to our Outback and we did not want a "big" car. He gave us the tours of both cars and offers to drive each. He answered all of our questions, including a couple that might seem odd to some, like overall length and ground clearance. He took the time to understand what our concerns were and tried to allay my fears by pointing out that in all probability, despite the almost one foot difference, the Crosstrex would probably protect me better than my Legacy, due to all the new safety features. I admit that fact played a big part in my decision to go with a Crosstrex. It was now time to sit down and crunch numbers with Don and he offered us a snack and a beverage. We indicated we were trading the Legacy in and he gave us a very fair trade in price and the same for the Crosstrex. Our repeat customer letter from Mr. Virgil Alston took $500 off the price and we had a deal on a new Crosstrex. Don could not find one that had the features we wanted, so I was content to build one and wait till some time in May. Imagine my surprise and delight, when I got a call from Don last week saying the car was arriving earlier than expected. I emailed him that I needed the Vin number to obtain the insurance card and he was literally back to me in under a minute with the number, and never once mentioned that it was on my paperwork. I realized that only after I had contacted him. We scheduled the delivery of the car on April 29th and the experience was just as delightful and effortless as our sale. Don reviewed all the paperwork with us to conclude the sale and then went on to explain page by page the quick start book, so that once we got into the car, we would have some familiarity. He had also paper clipped the manual locating the important sections for us. Don, then handed us off to Zach Nagler who reviewed the options for the extended warranty. He too, was terrific. We never felt pressured to take anything at all and in the end, after discussing it with Zach we took the basic package. Then it was back to Don again for the in car tutorial. He paired the phones and then we went through all the features he had explained earlier using the guide. He thoroughly answered each and every question. Don was just fabulous to work with, as were all the above named. I would be remiss if I did not add kudos to your service department. As previously mentioned, we had an appointment for the Outback and my sister had come to visit in her 14 month old Crosstex. She needed roadside assistance several times as the display was flashing and the car would go dead for no apparent reason. When I called, I spoke with Kris Parker and said that she was visiting from NY and this had happened multiple times. He immediately said to bring the car in the same time as ours, and he would squeeze it in. They replaced the battery and the car has been fine ever since. They easily could have said they were too busy, and one day out, that would be understandable. Once again, another example of why I love Gateway and their employees so much, because they really do care about me. I apologize for the lengthy letter; however, these employees and the dealership are STILL so extraordinary that I had to let you know, that at Gateway, status quo is fabulous!!! Their customer service, purchase process and service are simply the gold standard for a dealership and what's more, they make it look easy. It is truly hard to improve on excellence. Sincerely yours, Debbie Donovan
---
Gateway Subaru Delivers Warmth to Patients - Jillian J
On Monday, July 15th, The Leukemia & Lymphoma Society's (LLS) Maryland Chapter and Gateway Subaru had the pleasure of delivering 80 blankets to the Richard A. Henson Cancer Institute at the Peninsula Regional Medical Center in Salisbury as part of the Subaru Loves To Care program. These comforting gifts were accompanied by personalized messages of hope written by the customers and staff of Gateway Subaru in Delmar. Representatives from Gateway Subaru, the Richard A. Henson Cancer Institute in downtown Salisbury, and the Maryland Chapter of The Leukemia & Lymphoma Society were all present during the blanket delivery, in addition the WBOC Delmar News Team. This incredible act of generosity was warmly received by the Peninsula Regional Medical Center staff, who were thrilled to help Gateway Subaru General Manager, Wendy Schiavone, hand-deliver these comforting blankets to their patients. Many thanks to everyone at Gateway Subaru and the Peninsula Regional Health System, not only for a memorable day, but for supporting LLS's mission to cure blood cancers and improve the quality of life of patients and their families.
---
Subaru Loves Learning with Delmar Middle School - Andrew O
Delmar Middle School would like to thank Gateway Subaru of Delmar, Maryland for their continuous donation of books to our middle school students. These books provide supplemental readings for our students both in the classroom and in our media center. We are very appreciative of the relationship we have with Gateway Subaru and all they do for our students. We look forward to working with them for many years to come.
---
My "Higher Standards" Experience at Gateway - THOMAS C
My service experiences at Gateway have been nothing but superior, and I am always pleased to receive the random service questionnaire to provide my positive feedback. Including my recent experience; approximately two weeks ago I was driving home from work and had a complete tire blowout. Fortunately, I was able to drift to the shoulder. Since I was only several miles from the Gateway dealership I called and fortunately was able to talk to Brian Kang (manager at Gateway). I explained my dilemma and he assured me not to worry and that he would find a way to help as long as I could get the car towed to Gateway, I had nothing to worry about. While I was waiting to be towed, I was shocked to see Shane Brinson (assistant service manager) come up to my car window. He was running errands and recognized my car on the side of the road and pulled over to offer to put my spare tire on or help in any way. I told him I was already in touch with Brian and he assured me he'd get everything resolved first thing in the morning. The tow was delayed; Brian drove from the dealership and picked me up drove us back to the dealership, and then told me to take the car home for the night. He assured me not to worry and that everything would be taken care of in the morning. First thing next morning I received a call. The tire could not be repaired so my tire was replaced at no charge to me and no charge for the loaner car. I can't express how reassured I felt after feeling so vulnerable in a car that could not be driven. The folks at Gateway were reassuring to me and solved my problem seamlessly. While I believe this situation was extraordinary, it is fully understandable given the culture and values that I know exist at Gateway. This is why I have been and will continue to be, a loyal customer to Gateway and of Subaru.
---
Subaru and NWF Loves the Earth - Sarah B
The 850 square area was tilled by a local rental company to allow more time planting and less time preparing the area. Students chose this area because it is slightly down hill and will hold moisture when it rains. Mulch and stone was donated by local landscaping companies to help beautify the garden. Native plants were planted to attract wildlife and add color to the surrounding area.
---
Gateway Subaru Gives First Blanket of Warmth - Sheronda B
Gateway Subaru in Delmar and the Leukemia & Lymphoma Society (LLS) - Maryland presented 60 blankets and care card messages to the Richard A. Henson Cancer Institute at the Peninsula Regional Medical Center (PRMC) on June 23rd. The 60 donated blankets will help keep patients warm during their treatments at the Henson Cancer Institute and on 3 East, our new inpatient medical oncology unit. PRMC and the Richard A. Henson Cancer Institute extended their thanks to Gateway Subaru and the Maryland Chapter of the Leukemia and Lymphoma Society for their amazing generosity and their selflessness. They also thanked all of the customers of Gateway Subaru who took time to write notes of support and encouragement to our cancer patients. In the segment, Wendy Schiavone, Sales Manager at Gateway Subaru, donates the first blanket to patient Brenda Rathel of Hebron who was receiving her last day of treatment. Others included the PRMC team members, Lori Somers, Clinical Nurse Manager, 3 East; Bonnie Losiewski, Practice Manager/Chief Therapist, Radiation/Oncology; Joan Mischtschuk, Executive Director, Richard A. Henson Cancer Institute; Wendy Schiavone, Sales Manager, Gateway Subaru; Astrid Bravo, Marketing Coordinator, Gateway Subaru and Sheronda Booker, Donor Development Director, Maryland Chapter Leukemia & Lymphoma Society.
---
Blankets, Bracelet and Cards. Incredible! - Roger F
Peninsula Regional Medical Center and our Richard A. Henson Cancer Institute and Medical Oncology Inpatient Unit would like to thank Gateway Subaru and the Maryland Leukemia and Lymphoma Society for their extremely generous donation of 60 blankets, cards of encouragement for our patients and the support bracelets. It was an incredible and selfless donation that will go miles to improve the morale and the comfort of our patients dealing with not only blood cancers, but every type of cancer we treat at this premier community cancer center. Thank you from the bottom of our hearts to two organizations with extremely large and caring hearts! The staff of PRMC and the Richard A. Henson Cancer Institute
---
Gateway Subaru teams up with Barrels By the Bay - Megan R
Across the Eastern Shore, an average of 45 inches of rain falls per year, all of which has the potential to flow into the Chesapeake Bay and flood the surrounding areas. In a single rain barrel, an average of 700-gallons is collected in one rainfall, 1 inch of rain in 24 hours. In one year, just one barrel can collect 31,500 gallons of rain to be used throughout the landscape, to help prevent polluted storm water runoff, and to reduce flooding concerns. At the same time, thanks to the generous support from Gateway Subaru, the community is becoming more educated about water conservation, students are inspired to preserve our world's water resources, the region's sustainability is an important focus, and flooding concerns are combated throughout the local community. Schools participating in the Barrels by the Bay Wicomico county-wide program have the opportunity to paint Coca-Cola syrup barrels that have been retrofitted into rain barrels. Gateway Subaru has collaborated with Barrels by the Bay to help do just that. Barrels by the Bay is aimed at teaching the next generation of environmental proponents of our world's water resources, and Gateway Subaru has continued their Love Promise to partner with Barrels by the Bay and the community to help make a difference and positively impact the environment.
---
Subaru Loves Learning Book Drive August 1 - 31 - Danielle S
Join us in our Subaru Loves Learning initiative during the month of August! We are partnering with the American Association for the Advancement of Science (AAAS) in donating science books to Wicomico High School in the Wicomico County School District. All of the books that will be donated have been recognized by AAAS as some of the best science books in their field. Contact us to learn more information.
---
Subaru Loves the Earth - E-Waste Event - Danielle S
We would like to thank our customers for participating in our E Waste Recycling event during the month of April. With your help, we were able to prevent 7,005 lbs of carbon emissions from polluting the atmosphere. This is equivalent to saving 269 trees, 1,191 gallons of gasoline, 10,155 plastic bottles, and 46,712 aluminum cans. Thank you for helping strengthen the Subaru Love Promise!
---
Maryland Food Bank - Eastern Shore: Love Promise - Jennifer S
On the Eastern Shore, hunger touches tens of thousands of households, leaving its mark on communities across the region. In the last year, Gateway Subaru has stepped up to support the movement against hunger by volunteering their time at the Maryland Food Bank - Eastern Shore. Over the course of their volunteer shifts, Gateway Subaru provided more than a dozen volunteers and committed more than 30 hours to preparing food for distribution to families in need. In doing so, Gateway Subaru has given the food bank a boost and shown the community that they are committed to improving the lives of their neighbors. We are so grateful to Gateway Subaru, and we look forward to working with them in the future!
---
April 1-30, 2015 E-Waste Recycling Event - Molly M
Throughout the month of April, we are hosting an E-Waste Recycling Event in our store to collect unwanted electronics. We've arranged to work with a company who will responsibly collect, re-purpose, and recycle your electronic waste. Help us protect our environment. Just show up with your E-Waste and we'll do the rest! The first 50 customers who contribute will receive a complimentary environmental badge of ownership. We will accept: LCD Monitors, Cell Phones, Laptops, Tablets, CRTs up to 40, Video Games/Consoles, Fax Machines, DVD/VCR Players, Printers, Computer Peripherals, Switches/Routers, Cords and Wires.
---
Alex's Lemonade Stand During the 48Hrs Tri-state - Cory C
A big thank you to Gateway Subaru for helping me host a charity event raising money for Alex's Lemonade Stand during the Subaru Enthusiasts event, 48 hours of Tristate. This yearly event gathers Subaru Enthusiasts together to raise money for numerous organizations to benefit Cancer research. Gateway Subaru enthusiastically embraced Alex's Lemonade Stand Foundation. They donated not only their time but also generously donated money to my group as well. I have a long time relationship with Gateway having owned a laundry list of older and newer Subaru's. Subaru is an awesome company that is constantly giving back to the community. It has always been great working with Gateway for parts, service and now even for fund raising. Thank you Subaru and Gateway.
---
Gateway's Commitment to the Future - David W
I became part of Gateway's commitment to the community as a teacher at Parkside High school when I first approached Gateway to inquire about the availability of their service manager serving on our schools automotive department's business and education advisory committee.True to their original commitment they have continued to work with the school each year since. In the past 4 years of our involvement with Gateway, they have truly shown their commitment to education and to the students at Parkside High School.They have volunteered their time by speaking with our students about career opportunities and providing the school with any assistance we asked for. Our students that work at Gateway are not just employees but are mentored and trained by the other members of the Gateway staff. They continually share with the other students how much they enjoy working and learning there and how everyone there makes them feel like they are part of the Gateway family. Recently one of these students was selected to represent the state of Maryland at a national competition in New York City. Gateway Subaru quickly provided the school with a monetary donation to help defray the costs associated with the competition and also will be providing the students with training, materials, and vehicles for the students to become familiar with before the competition. Gateway Subaru has truly shown the Eastern Shore and our students what The Subaru Love Promise is all about.
---
Humane Society of Wicomico County - David F
We enjoy our partnership with Gateway Subaru. They allow us to have remote adoption events at their dealership and support our efforts to provide all the unwanted animals their best chance at a new home. They had a "Fill the Forester" campaign to receive many needed donations for all our animals. We greatly appreciate their support.
---
Humane Society of Wicomico County - Don E
We enjoy our partnership with Gateway Subaru. They allow us to have remote adoption events at their dealership and support our efforts to provide all the unwanted animals their best chance at a new home. They had a "Fill the Forester" campaign to receive many needed donations for all our animals. We greatly appreciate their support. The Humane Society of Wicomico County was established in 1969 to make a difference in the lives of animals and the people who love and care for them; and is dedicated to relieving the pain and suffering of animals through education and direct intervention. We work to help the animals as an "open admission" shelter taking strays from Wicomico County and surrendered animals from Wicomico County residents by appointments. We have an aggressive adoption program with many specials each month to encourage adoptions. Our spay/neuter clinic provides anyone regardless of residency an affordable, low-cost opportunity to spay or neuter their animal.
---